Don't Flush Your Hard-Earned Money Down The Drain. 
Pull the Plug on Inexperienced Plumbers and Hire an Experienced Plumber in Chula Vista, CA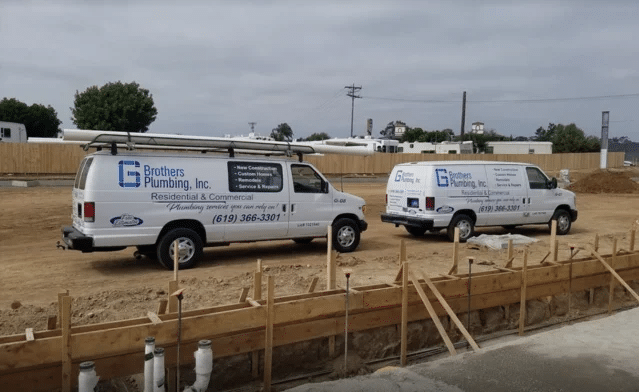 Affordable Services For All Your Plumbing In Chula Vista And The Surrounding Areas. 
Don't Flush Hard Earned Money Down The Drain, Count On The Professional Team At G Brothers Plumbing, Inc. 
The worst thing that can happen to your home after a water heater leak or overflowing toilet is an inexperienced plumber attempting to fix the problem. Don't put your home at risk! Hire G Brothers Plumbing, Inc for professional and experienced repairs.  
With More Than 10 Years Of Plumbing Experience, Our Team Will:

Deliver Excellent Customer Service
Install New Parts On An As-needed Basis
Find The Cause Of Your Plumbing Problem 
Offer Affordable Solutions For Your Budget 
Provide Best In Class Warranties
Call (619) 366-3301 today to learn more about how our skilled plumbers in Chula Vista can solve your residential or commercial plumbing problems. 
Drain Cleaning
Before relying on home remedies or liquid drain cleaners, trust our team for a thorough and professional drain cleaning, include high pressure hydro jetting for severe blockages. Inexperienced plumbers can cause more damage in your home and business, especially in high rise buildings. We have more than 10 years of experience in troubleshooting and clearing the toughest drain clogs.
Emergency Plumbing
Your emergency is our top priority. Leaving backed up drains and water leaks unaddressed can cause water and structural damage to your property, as well as mold growth. Our team will safely assess your issues and provide repairs to the highest industry standards. We ensure that your home and business are always protected while guaranteeing all our work. 
Plumbing Fixtures
From motion sensor faucets, ADA toilets, commercial grade plumbing fixtures, and commercial boilers to home garbage disposals and showerheads, G Brothers Plumbing, Inc. can service, repair or install all your plumbing fixtures. We can help you to match the current look of your home or business or provide upgraded fixtures in every style.  
Water Leak Detection & Repair
Water leaks should be repaired quickly by licensed and insured plumbers. Signs you may have a water leak include unexpected spikes in your water bill, discoloration or stains on ceilings or walls, warm spots on your floor, and/or the sound of water running when none is in use. We provide accurate water leak detection and can recommend direct repair or repiping to eliminate future leaks. We will thoroughly assess the causes of leaks, such as high water pressure, and walk you through the repair process from start to finish. Our team performs all work to uniform plumbing code and will help to restore your services fast.  
Water Heater Installation & Repair
When your water heater goes out or you are experiencing leaks, trust our team of specialists to make fast repairs or install a new highly efficient system. We can make repairs, service, and install residential water heaters and commercial boilers. We will install your new unit according to uniform plumbing code and help you to maintain it to work at its optimal level and extend the life of your water heater. 
Tankless Water Heater Installation
Imagine endless hot water for your home or business. Tankless systems heat water on demand, so you are only using hot water when you want it, and for however long you need it. Ideal for large families and commercial spaces such as hair salons and restaurants, tankless water heaters have many benefits. In addition to energy efficiency, tankless systems do not store water, so they pose little to no flood risk if something goes wrong. 
Gas Leaks
At the first sign of a gas leak: dying vegetation, sulfur smell, hissing sound near gas meter, or bubbling water in your yard, contact our team of gas leak specialists. We will safely assess your home or business and provide detection and repair. We will work with your utility company to the final inspection ensuring the highest standards of workmanship and safety.  
Home Remodel
Are you considering remodeling your kitchen or bathroom? We can help from start to finish. From choosing a new vanity, tile work, fixtures and more, our team will help you to achieve the room of your dreams. We are experienced in all plumbing work, including new construction, so you know you are in great hands with G Brothers Plumbing, Inc.  
New Construction
G Brothers Plumbing, Inc. performs residential and commercial plumbing and drain services, but we can also help with your new construction project. Whether it is building a new office space, new home addition, or brand-new housing development, we are equipped to install all new plumbing and drains from rough-in to finish. 
NEW CUSTOMER SPECIAL - 10% OFF
We pride ourselves on providing affordable plumbing options for your Chula Vista, CA. To welcome our first-time customers, we offer a 10% discount on all initial services. For our senior and military customers, we offer a 10% discount on all services.
If you have any question regarding your plumbing, we encourage you to schedule an appointment or phone consultation with one of our experts . We are pleased to offer all types of plumbing services for the needs of your family or business.
OUR ADDRESS
G Brothers Plumbing, Inc Chula Vista, CA 91911
Mon: 8:00AM-5:00PM
Tue: 8:00AM-5:00PM
Wed: 8:00AM-5:00PM
Thu: 8:00AM-5:00PM
Fri: 8:00AM-5:00PM
Sat: Closed
Sun: Closed